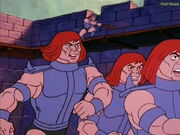 The Ape Clan rose during the Preternia era to become a leading human nation on Eternia. It was at first a rival of the Snake Clan, but it later allied with King Jarod to help form the planetary government of Eternia. It was a late-generation society of Ancient Ones.
During the time of the unified global monarchy, the Ape Clan retained a degree of local self-government under elected officials or hereditary nobles. Ape Clan territory also became the site where Castle Grayskull was first built, and largely remained free from control by King Hiss or the Evil Horde during the Great Wars. 
Even during the time of King Randor's rule, the Ape Clan descendants retained a degree of independence.
The Ape Nation and its descendants tended to worship the Goddess as their supreme deity, but they often worshiped other gods as well.
Ad blocker interference detected!
Wikia is a free-to-use site that makes money from advertising. We have a modified experience for viewers using ad blockers

Wikia is not accessible if you've made further modifications. Remove the custom ad blocker rule(s) and the page will load as expected.