Bow is a character from the 1985 toyline Princess of Power.
She-Ra: Princess of Power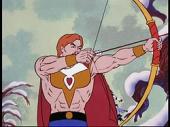 Bow was renowned as the best archer in all of
Etheria
. Aided by his faithful steed
Arrow
, he joined up with the
Great Rebellion
to oppose the
Evil Horde
. During the series, his home was the
Whispering Woods
, although his original origins were unknown. As well as his archery skills, Bow was also a talented illusionist and musician, and was often to be found serenading the rebel camps at night. He uses a multi-purpose device called a
Combow
which can be extended to form both an archer's bow as well as a musician's harp. Bow also knows many stories about Etheria's ancient days.
As well as Arrow, he was often seen with Kowl, his other animal companion; they seem to share an old friendship, and usually get involved in comic arguments, from which Kowl arises as the winner. This gives Bow's character a somehow foolish nuance. Equipped with an array of trick arrows, Bow used his skills of illusion and his fierce patriotism for Etheria to fight The Evil Horde.
Even being a brave and loyal warrior, Bow is also known to be proud and impulsive, which got him in trouble more than once. She-Ra: Princess of Power being the female version of He-Man, Bow appears as Teela's counterpart, getting caught more than once by the Evil Horde, and waiting patiently and defenselessly for She-Ra to rescue him. Also, just like Teela shows a romantic interest in He-Man, Bow shows an interest in She-Ra, but his feelings are unrequited.
Just like Man-At-Arms in the He-Man and the Masters of the Universe series, Bow has a mustache in the She-Ra: Princess of Power animated series despite his original action figure not having one.
Filmation Appearances
External Links
Ad blocker interference detected!
Wikia is a free-to-use site that makes money from advertising. We have a modified experience for viewers using ad blockers

Wikia is not accessible if you've made further modifications. Remove the custom ad blocker rule(s) and the page will load as expected.