Broom is a character from the 1985 animated series She-Ra: Princess of Power.
Broom has the distinction of being one of only three characters (the others being Zodac and Loo-Kee) to know the identities of He-Man and She-Ra.
She-Ra: Princess of Power
Broom is a broom-like creature that has the ability to fly and lives in the Whispering Woods. He is Madame Razz's best friend, and with his aid, she can fly. Together, they help The Great Rebellion in their fight against Hordak and the Evil Horde.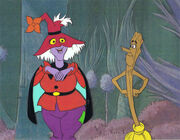 Filmation Appearances
External Links