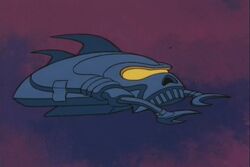 The Collector is an aircraft used by Skeletor in his attacks upon the forces of good in Eternia. It resembles a skull with large pincers on each side of the hull.
The Collector is apparently designed primarily for capturing people, as it is used for that express purpose in "The Rainbow Warrior."
Appearances
He-Man and the Masters of the Universe
She-Ra, Princess of Power
Ad blocker interference detected!
Wikia is a free-to-use site that makes money from advertising. We have a modified experience for viewers using ad blockers

Wikia is not accessible if you've made further modifications. Remove the custom ad blocker rule(s) and the page will load as expected.