Ad blocker interference detected!
Wikia is a free-to-use site that makes money from advertising. We have a modified experience for viewers using ad blockers

Wikia is not accessible if you've made further modifications. Remove the custom ad blocker rule(s) and the page will load as expected.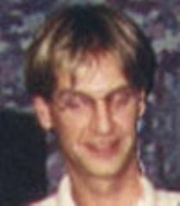 Doug Parker
(born December 17, 1957) is a Canadian voice actor and voice director. He has been doing voices in several cartoons and anime, and he is probably best known for playing Terrorsaur in
Beast Wars
. Doug also provided the voice of Prince Adam in
The New Adventures of He-Man
(1990) series while He-Man was voiced by
Garry Chalk
, whereas the 1983 and 2002 versions of the
He-Man and the Masters of the Universe
series featured one actor providing the voices of both Adam and He-Man (
John Erwin
in the 1983 series and
Cam Clarke
in the 2002 series). Doug is the brother of Julie Parker.
Roles