Ad blocker interference detected!
Wikia is a free-to-use site that makes money from advertising. We have a modified experience for viewers using ad blockers

Wikia is not accessible if you've made further modifications. Remove the custom ad blocker rule(s) and the page will load as expected.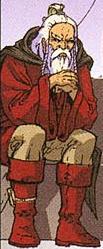 Eldor
is the name of a planned character for the cancelled
The Powers of Grayskull
toyline.
In the planned storyline, Eldor was He-Ro's mentor and the guardian of the Book of Living Spells (which was supposed to come as an accessory for the figure).
Eldor has a cameo in issue #5 of volume 3 of the MVCreations comic book as part of the Council of the Wise.