The Horde Transport, also known as the Horde Armored Convoy Vehicle, is a vehicle from the 1985 animated series She-Ra: Princess of Power.
She-Ra: Princess of Power
A Horde Armored Convoy Vehicle is an ground vehicle usually reserved for high-ranking Horde officials, with at least one Horde Trooper acting as a chauffeur while another Trooper mounted the large gun located at the back of the vehicle.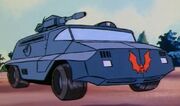 Appearances
External Links
Ad blocker interference detected!
Wikia is a free-to-use site that makes money from advertising. We have a modified experience for viewers using ad blockers

Wikia is not accessible if you've made further modifications. Remove the custom ad blocker rule(s) and the page will load as expected.