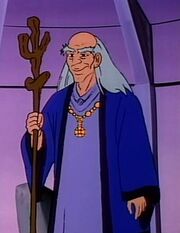 Master Sebrian
is a character from
The New Adventures of He-Man
.
Sebrian is the wisest man on Primus, and the most zealous supporter of the Galactic Guardians in the Planetary Council. When He-Man arrives to Primus, he reveals his secret identity to Sebrian, who makes Adam pass as his nephew from the city of Levitan.
Even though Master Sebrian was never released as a toy, he is mentioned in Staghorn's figure bio.
Ad blocker interference detected!
Wikia is a free-to-use site that makes money from advertising. We have a modified experience for viewers using ad blockers

Wikia is not accessible if you've made further modifications. Remove the custom ad blocker rule(s) and the page will load as expected.