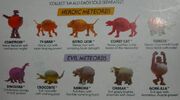 Meteorbs
were originally a Japanese toyline of transforming eggs from
Bandai
called
Tamagoras
(タマゴラス) and were released in the USA by
Mattel
as part of the Masters of the Universe toyline as transforming meteors.
Because the Masters of the Universe had by then passed its peak, the Meteorbs primarily appeared very rarely in the franchise's fiction. Only two Meteorbs, Comet Cat and Dinosorb, appeared in a single episode of She-Ra, "Assault on the Hive".
In the Marvel comics series the Meteorbs are portrayed as members of the Rock People. The Heroic Meteorbs appear among Stonedar and Rokkon. The Evil Meteorbs, led by Gore-illa, are renegade Rock People associated with Skeletor. They were portrayed more as pets than equal members of the Evil Warriors.
Heroic Meteorbs
Evil Meteorbs
References
External links
Ad blocker interference detected!
Wikia is a free-to-use site that makes money from advertising. We have a modified experience for viewers using ad blockers

Wikia is not accessible if you've made further modifications. Remove the custom ad blocker rule(s) and the page will load as expected.