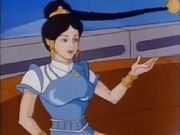 Save Our City is the 56th episode of The New Adventures of He-Man.

This article is a stub. You can help Wiki Grayskull by expanding it before we are terrorized by evil villains!
Galactic Guardians
Allies
Villians
Synopsis
The conflict between the Mytes and the Gleanons goes into the next round. The Gleanons plan a trap with which they can surprise the Mytes and subject them. He-Man and Mara receive word of this and once again try to help the Mytes...
Snapshots
Ad blocker interference detected!
Wikia is a free-to-use site that makes money from advertising. We have a modified experience for viewers using ad blockers

Wikia is not accessible if you've made further modifications. Remove the custom ad blocker rule(s) and the page will load as expected.