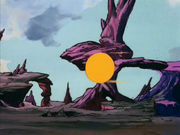 The Spellstone is a magical artifact guarded by the Fire People. It has the power to control the weather and is the only thing capable of destroying the Creeping Horak. It was once stolen by Skeletor and Evil-Lyn, who used it as part of a ploy to turn the common folk of Eternia against the royal family.
Appearances
External Links
Ad blocker interference detected!
Wikia is a free-to-use site that makes money from advertising. We have a modified experience for viewers using ad blockers

Wikia is not accessible if you've made further modifications. Remove the custom ad blocker rule(s) and the page will load as expected.