Spinwit, aka Tornado is an action figure from the Mattel He-Man toy line and a character from the 1990 animated series The New Adventures of He-Man.
Character Information
Uses his amazing tornado spin to help the inter-galactic forces of good fight the evil Skeletor.
Animated Series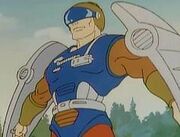 Spinwit first appears in the series already as one of the Galactic Guardians, but the later episode "
The Galactic Guardians
" shows in flashback how did he join them.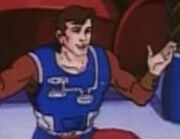 In the episode "
The Tornadoes of Zil
", He-Man and Spinwit find a tornado-surrounded planet called Zil, whose inhabitants declare Spinwit as their champion due to a legend. They deactivate the tornadoes out of trust on Spinwit's protection, while Spinwit himself lets the fame to go into his head, but he gets back into his senses due to an attack by
Skeletor
,
BH
and
Quakke
.
Ad blocker interference detected!
Wikia is a free-to-use site that makes money from advertising. We have a modified experience for viewers using ad blockers

Wikia is not accessible if you've made further modifications. Remove the custom ad blocker rule(s) and the page will load as expected.