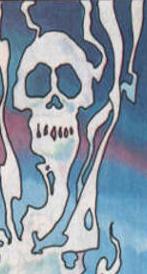 The
Spirit of Grayskull
first appears in the first wave of
Masters of the Universe
Minicomics
as a skull-shaped cloud of smoke that emerges from
Castle Grayskull
and speaks to the
Heroic Warriors
as thye voice of the castle itself.
The Spirit of Grayskull also appears in a Filmation episode as a disembodied head who talks with The Sorceress of Castle Grayskull.
A translucent King Grayskull figure was sold as the Spirit of Grayskull for Masters of the Universe Classics, thus defining the Spirit of Grayskull as King Grayskull's spirit.
Ad blocker interference detected!
Wikia is a free-to-use site that makes money from advertising. We have a modified experience for viewers using ad blockers

Wikia is not accessible if you've made further modifications. Remove the custom ad blocker rule(s) and the page will load as expected.