Sssqueeze is a character in the Masters of the Universe franchise, He is a member of the Snake Men, who has the power to elongate his arms.
Early appearances
Sssqueeze first appears in the minicomic "Revenge of the Snake Men!", where King Hiss summons him and Snake Face from the dimension where the Snake Men are trapped. He gets little character development, with Snake Face's powers being the main focus of the comic. Sssqueeze also appears in the minicomic "Energy Zoids", where Rotar takes his long arm and uses him as a living mace. Sssqueeze also appears in the Marvel Comics series, first in issue #8, where he is depicted as a member of the Evil Horde, and later he makes a cameo in issue #12 as a member of the recently arrested Snake Men.
Mike Young Productions series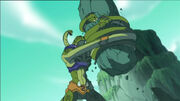 Sssqueeze also appears in the
2002 animated series
, along with the Snake Men. Though the minicomics and Marvel Comics depict him with normal hands, in the new series his hands look like snake heads when his arms are extended. He is mostly the one to see if
Kobra Khan
is a true Snake Man by having eat a defeated human.
Trivia
In one episode of the Filmation He-Man and the Masters of the Universe cartoon series, Kobra Khan is suddenly shown to have long, extendable arms; a concept that may have origins in the prototype for fellow Snake Man, Sssqueeze.
In the minicomic "Revenge of the Snake Men", Sssqueeze is named Tanglor, the prototype-stage name for the character.
Four Horsemen Studios
Sssqueeze was included in Series 5 of NECA's Masters of the Universe mini statue line[1]. On July 20, 2006 at the Comic-Con International in San Diego, Four Horsemen Studios announced the figure and revealed the prototype.
The line is a continuation of the discontinued 2002 Mattel Masters of the Universe action figures also designed by Four Horsemen Studios, and is sculpted in a similar size and style. Series 5 was released in 2007.
References
Ad blocker interference detected!
Wikia is a free-to-use site that makes money from advertising. We have a modified experience for viewers using ad blockers

Wikia is not accessible if you've made further modifications. Remove the custom ad blocker rule(s) and the page will load as expected.