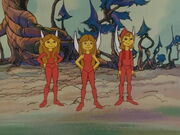 The Sylani are a group of faerie-like creatures who dwell in forests. They implore the Sorceress of Castle Grayskull to intervene on behalf of the last unicorn of Eternia, who is under threat from Baron Grod. The Sorceress agrees and sends Prince Adam, Teela, and Cringer on a diplomatic mission to save the unicorn.
The Sylani possess magical powers that can manipulate small items around them, such as fruit (and in one scene, the nose of Growler, Baron Grod's mechanical dog).
Appearances
External Links
Ad blocker interference detected!
Wikia is a free-to-use site that makes money from advertising. We have a modified experience for viewers using ad blockers

Wikia is not accessible if you've made further modifications. Remove the custom ad blocker rule(s) and the page will load as expected.