Ad blocker interference detected!
Wikia is a free-to-use site that makes money from advertising. We have a modified experience for viewers using ad blockers

Wikia is not accessible if you've made further modifications. Remove the custom ad blocker rule(s) and the page will load as expected.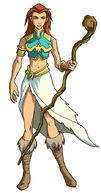 Teela Na
is the current
Sorceress of Castle Grayskull
and the mother of
Teela
. She was active during the time of the control of the planetary
government of Eternia
by King
Randor
.  She also granted the
Sword of Power
to Randor's son Prince
Adam
so he could become
He-Man
.  It is rumored Teela Na received her magical powers from the
Goddess
,
Eternia
's most prominent deity.