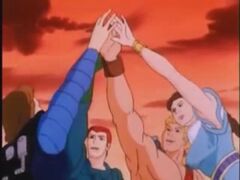 The Final Invasion is the 65th and final episode of The New Adventures of He-Man.

This article is a stub. You can help Wiki Grayskull by expanding it before we are terrorized by evil villains!
Galactic Guardians
Allies
Evil Mutants
Synopsis
He-Man and the Galactic Guardians are held back after their previous victory. In the mean time The mutants with all of their military forces attack Primus. Although the inhabitants of Primus try to defend themselves, they have no chance, the Final Battle has begun.
Gallery
Animated
Ad blocker interference detected!
Wikia is a free-to-use site that makes money from advertising. We have a modified experience for viewers using ad blockers

Wikia is not accessible if you've made further modifications. Remove the custom ad blocker rule(s) and the page will load as expected.