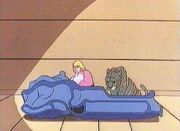 The Zoom Chariot is a vehicle that appears in He-Man and the Masters of the Universe. When King Randor lamented that Prince Adam was always late for appointments, Adam flew through the wall of the Royal Palace's throne room in the Zoom Chariot. The king and Man-At-Arms were upset with Adam for destroying both the wall and the Zoom Chariot, but Orko lightened the mood by saying that "at least [Adam] destroyed them on time."
Appearances
External Links
Ad blocker interference detected!
Wikia is a free-to-use site that makes money from advertising. We have a modified experience for viewers using ad blockers

Wikia is not accessible if you've made further modifications. Remove the custom ad blocker rule(s) and the page will load as expected.